Introduction
The small and medium scale enterprises (SMEs), especially in the industrial sector have been in the centre of policy initiatives of their respective Government agencies recently with much avowed interest and commitment to enhance their global competitiveness. Among other things such as leveraging productivity, energy efficiency, cost control etc., there is sharp focus of enhancing their awareness about their in-house 'intellectual assets' and protection through 'intellectual property rights (IPR)'.
Intellectual property in general and patents, in particular, have come to be realised as an important part of business strategy all over the world now. This is all too well known to the corporate sector and the multi-national corporations who play this game, known as 'Competitive Intelligence' conscientiously. But the situation with regard to SMEs is much different characterised by lack of awareness and disregard for 'intellectual property'. Patents are by nature competitive instruments – and can give enormous advantage to the holders, irrespective of the size of their firms. It is of interest, therefore, to review the general scenario of patents and IP with regard to small businesses in India and elsewhere.
In the context of high tech start-up, IP assumes a key part of the value of a technology start-up. This means that start-up must take early decision on key items of IP with concrete steps for ownership and a firm IP strategy and a real budget for it in the business plan. The execution of IP strategy gives the start-up a clear understanding of IP landscaping as well as the value of start-up – paving the way for growth, partnership, merger, acquisition or exit to the advantage of the promoter. Most SMEs are, however, out of the ambit of such technical understanding of IP issues.
Indian MSMEs
With enactment of 'Micro, Small and Medium Enterprises Act (MSME Act)' in 2006 and a rechristened ministry with the same name to cover even the micro level units and encompassing all enterprises meaning thereby to also include the service industry and other miscellaneous businesses, the interests of SMEs now fall with this ministry. The MSME definition of a medium scale industry in the manufacturing sector is a unit with an investment not exceeding `100m and that of small industry about half this limit. The service oriented businesses have about half of these investment limits.
The number of MSMEs in India is estimated to be over 13 million, employing over 42 million. The export from the MSME sector is estimated at around US$ 40 billion during 2005-06. Further, with the ten-fold increase in the permissible investment limit, the sector is estimated to account for up to 45% of the manufacturing output of India and nearly 40% of the national exports. The MSME sector has consistently registered a higher growth rate than the overall industrial sector. During 2006-07, the MSME sector in India registered a growth rate of 12.6%, as compared to the overall industrial growth of 11.5%. The total number of products contributed by MSME sector is estimated to be around 6,500 ranging from traditional to high-tech items.
Patenting activity by SMEs in India is quite modest as compared to many advanced countries. Despite significant increase in patent filing in recent years, about 80% patents are filed by foreigners or foreign companies in India. Patenting by Indian industry and other institutions barring a few can be considered quite low as compared with international standards.
A recent study done on patenting in India from the data collected through Patent Agents reveals that the industrial clients who availed their services during 2001-2006 in obtaining patents were 52.3 % from SME sector, 43.6 % from large sector and 12.2 % from MNCs sector. Further, the patents obtained as percentage of those filed constituted ~25% in automotive sector (as process patents) and as much as 43% in electrical sector (also as process patents), whereas the same in biotechnology and food technology as 20.7 % product patents constituted and 13.8 percent respectively. There was no patenting activity in textiles, ceramics / non-metallic etc.
A recent news item, however, brings a much positive and favourable report; the intellectual property facilitation centre (IPFC) for MSMEs at the National Institute for Micro, Small and Medium Enterprise (NI-MSME) is expecting 25 IPR (intellectual property rights) fillings by March 2011. Considering that the centre is barely an year old in its existence and has been conducting IPR awareness programmes in different clusters, such as imitation jewellery, bulk drugs and pharma, electronics / IT and automotive industry, the above indications are certainly heartening.
Ministry of MSME IPR Campaign
The campaign launched by the Ministry of MSME as an initiative on IPR during the 11th Five Year Plan of the Government of India has the following features:
Areas covered: Trade Secret, Industrial Design, G.I., Patents, Copyrights, and Trademark
Total Project cost - Rs. 550 m for 5 years
Planned activities - 150 Awareness & Sensitization Programmes – 30 Pilot Studies with Assns./Clusters – 50 Interactive Seminars / Workshops – 50 Short / 10 Long Term Training of IPR Cadre for MSMEs – 40 IP Facilitation Centres
Financial Assistance - Patent @ Rs.25,000 for Domestic, Rs.200,000 for Int'l – GI Regn. – Rs. 100,000 per case
As a follow up of MSME policies and programmes, several state Governments, viz., Haryana, Gujarat etc. have several schemes of extending support to SMEs for patent filing and for various awareness programmes.
Small Business Advocacy (SBA) – USA
Survey – 1 : 1988 -98 revealed that the percentage of international patents grew faster for small businesses than for large businesses during this period even though their overall share in international patents remains small. However, small business patents are more likely to be among the rare patents that "hit the jackpot" in value: they represent a higher percentage of both the top one percent and the top 10 percent of patents most often cited in other patent applications. This has been particularly notable in the fields of communications, computers, and miscellaneous electrical technologies.
Survey – 2 : 2002 -2006 revealed that small firms are a significant source of innovation and patent activity. Small businesses develop more patents per employee than larger businesses, with the smallest firms, those with fewer than 25 employees, producing the greatest number of patents per employee. Furthermore, small firm patents tend to be more significant than large firm patents, outperforming them in a number of categories including growth, citation impact, and originality. Finally, small firms tend to specialize in high tech, high growth industries, such as biotechnology, pharmaceuticals, information technology, and semiconductors.
Patenting French SMEs
INPI, the French Patent Office carried out a survey studying the characteristics and behaviour of SMEs filing patent applications during the year 1999 through the national route. In total, 1,408 separate SMEs were identified among 2,735 French corporate bodies which filed about 1800 patent applications in that year which was about 19% of all the patent applications filed by the corporate bodies.
Among the SMEs included in the survey, about 62% could be clearly identified as belonging to specific industry sector and mainly large-size SMEs with more than 50 employees exhibited the following distribution:
the production of machinery and equipment, particularly the manufacture of farm machinery and machinery for the food-processing industry (13%)
metal-related industry (11%)
medical and surgical equipment, scientific and technical instruments (primarily small-sized companies with less than 50 employees) (7%)
service industries comprising of consultancy and engineering firms (20.7%)
Further insight into the behaviour of French patenting SMEs was obtained through questionnaire responses revealing that about one third of patentees were first time applicants and nearly all of the SMEs did receive financial support for R&D, innovation etc. from a Govt. agency.
Like USA and France above, there are reports from various other countries such as Japan, Korea, Canada etc. where patenting activity of SMEs is keenly monitored and effective support mechanism exist. In Korea, for example, where SMEs constitute as much as 98% of the total industry, the Patent Office (KIPO) has set up as many as 30 IP centres throughout the country – to spread awareness of IP issues and to extend support for patent filing. Among other things, consultancy of 'IP Audit' for small firms also assumes significance.
Despite reasonable success, performance of SMEs in patenting in these countries is still regarded poor by their authorities perhaps against international benchmarks set by large industry. Another reason for sustained interest in raising IP awareness in SMEs could be due to growing international trade by SMEs for which foreign markets pose both as an opportunity as well a potential threat of infringement. The SME Division of WIPO has conscientiously helped various Patent Offices across the world to develop their capacity to deal with issues that are important for SMEs in their countries.
The Challenge of IPR Enforcement
- A key Issue in EU
While IPR is recognized as a key element in competitive advantage for SMEs, their competitiveness, creativity and innovative abilities are threatened by counterfeiting, piracy and uncertainty about how to enforce their rights. Practical support for IPR enforcement is rather patchy and, at present, far less developed than the promotion of general awareness of IPR.
European Union has shown a greater interest in overcoming this menace in recent years particularly since many European SMEs have been adversely affected by unchecked infringement of their patents and designs not only in countries such as USA and China but also within Europe.
A recent EU conference with stakeholders of European National Patent Offices recognized that SME support organizations need to improve their services in the area of IPR enforcement and linked to innovation support system. There are online directives for European SMEs on ensuring protection of IP in China to ward off any threat of infringement. There are also instructions online for precautionary measures while participating in trade fairs in China to and to seek administrative or civil enforcement of IP, if required.
Our Experience with Indian SMEs
Many SMEs that we have dealt with were not at all familiar with intellectual property rights. Few could make a distinction between trade-mark, copyright and a patent and tend to have vague ideas about these. Worst of all, some regarded patent as some form of mandatory registration something like company registration that would allow them to carry on their business without undue hassle from the regulatory agencies.
We find many such firms exposed to risk because their intellectual property assets lay unrecognised as forms of intellectual property. Many of these firms are possibly infringing on others' intellectual property rights, simply because they did not know about intellectual property.
Interestingly, however, many SMEs appear to have developed remarkable technical skills and knowledge in their line of production without any in-house scientific and technical personnel. Clearly, their sources of knowledge are through informal channels which they tend to keep secret. Nonetheless, these dubious means of development of their business put severe limitation to further growth and competitiveness. Even when these SMEs have been able to carry out some innovation on the shop floor or through some in-house R&D, they are often reluctant to file a patent for fear of infringement. Invariably, however, almost all of them showed keen interest in copies of granted patents in fields closely related to their production.
The fear of infringement is more palpable in 'design'. We found several small firms full of creativity capable of coming out with innovative designs in the fields such as furniture design, cutlery designs, designs of toilet fittings etc. It is asserted that copying of designs in these areas is so rampant that IP enforcement is unthinkable. Thus, IP enforcement is assuming a great deal of significance when it comes to promoting IPR in SMEs.
Connecting Small Firms with Patents
It is important to realise that the growing patent inventory world over is now freely searchable including those of countries such as China, Japan, Korea etc. with their English translations. With little familiarity of various databases, it is relatively easy to get an insight and knowledge in specific domains of technology. Most of these free databases also provide a facility to search patents through some kind of classification system, i.e., international patent classification (IPC), European classification (ECLA) etc.
Use of patent databases for technical information is not yet as common in developed countries as well but there is no doubt why it can not be used more frequently for creating interest and awareness among SMEs. The figure below depicts the usage of patent databases by non-patent applicant SMEs as against the applicants in different sectors.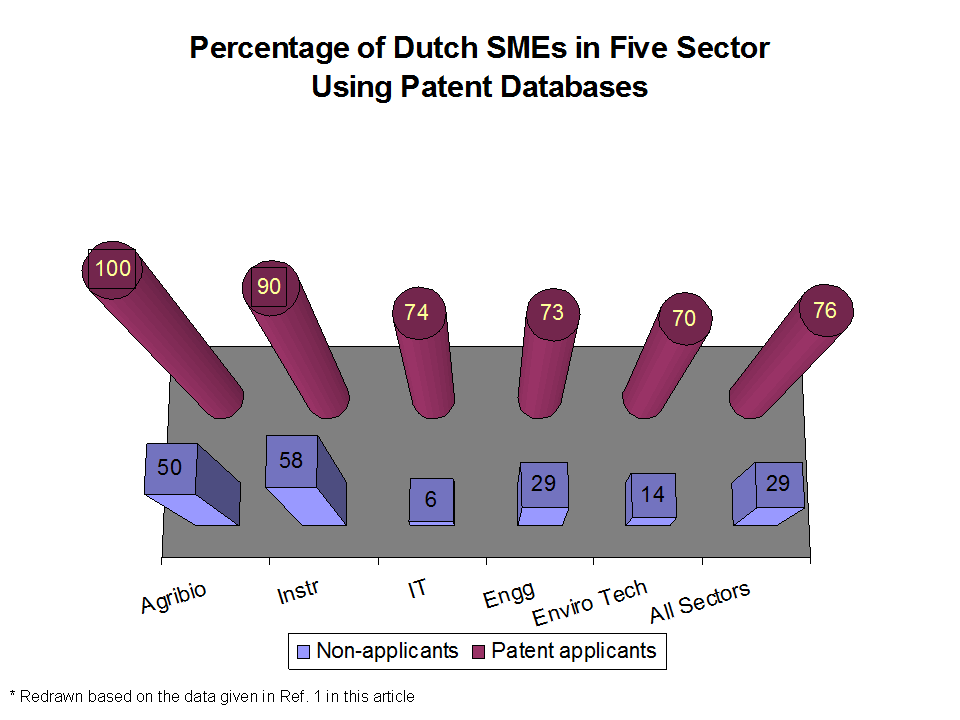 To demonstrate the utility of database search for SMEs of fruit processing cluster, a search of European patent database (worldwide) was carried out using European classification codes. The patents that can be accessed with main area of inventions are show in the following table.
| | | | | |
| --- | --- | --- | --- | --- |
| ECLA Codes | | Field of Invention / Cluster | | Patents |
| A23C3 | | Preservation of milk and milk products | | 3998 |
| A23L1/223 | | Dried spices | | 401 |
| A23L1/00N | | Peeling or cleaning of harvested fruit, vegetables | | 579 |
| A23N7 | | Peeling devices, equipment, machines | | 2356 |
| A23B7 | | Preservation or ripening | | 14179 |
| A23B7/005 | | By heating | | 341 |
| A23B7/01 | | By irradiation | | 199 |
| A23B7/04 | | By freezing / cooling | | 584 |
| A23B7/10 | | By acid fermentation | | 1332 |
| A23B7/16 | | By coating | | 1649 |
References
A Arundel and E Steinmueller, The Use of Patent Databases by European Small and Medium Sized Enterprises, Technology Analysis & Strategic Management, Vol 10, No. 2, 1998 pp 157-173
SMEs As Patent Applicants – The dossiers from the Observatory for Intellectual Property, INPI, France – December, 2004
Anthony Breitzman, and. Diana Hicks, An Analysis of Small Business Patents by. Industry and Firm Size, Small Business Administration – Office of Advocay – USA, November 2008 (www.sba.gov/advo/research/rs335tot.pdf)
C J Isom, Ceteris, Inc., David R. Jarczyk, Ceteris, Inc , Innovation in Small Businesses: Drivers of Change and Value, Small Business Administration – Office of Advocay – USA, March 2009 (www.sba.gov/advo/research/rs342tot.pdf)
Jawhar Sircar, Additional Secretary, MSME (September 2008 | www.i4donline.net)
Manisha Sridhar, Sudhir K Jain and Vinaysheel Gautam, Journal of Intellectual Property Rights, vol14, March 2009, pp142-148
EU Conference on 'Making IPR Work for SMEs': Brussels: 27 April 2009