Introduction
Mechanical Engineering is at the core of human ingenuity and creativity. Since the beginning of civilization, the man has learnt to put his intelligence in manipulating the laws of nature in a bid to conquer the nature itself by deploying various tools, appliances, equipment and machines. In simple terms, this branch of engineering deals with generation and application of heat together with mechanical power in producing myriads of products of our daily needs. All these operations require clever ways of material handling, mixing and modifications as well as the use of machines at one hand and designing processes and products for mass production of various end products (e.g., commercial, industrial and domestic products) or processes for mass consumption and utility (e.g., transportation) at the other.
It is inconceivable if we can live without any mechanical appliance today; in fact for any physical activity for leisure or work in the house, office or outdoor, we need them at every step. The range and capacity of these items is also fairly large and well categorized so that most of these are now virtually house hold items, e.g., grinder, mixer, washing machine, vacuum cleaner, sewing machine, watches, musical instruments, mechanical toys, garden tools, hand tools, gun and fire arms etc. Then there are other machines such as bicycle, motorbike, automobile, rail car and aircraft which also considerably influence our lifestyles. At the next level, there is a whole range of industrial machinery and heavy engineering items, such as cranes, construction and mining equipment, textile and paper machinery and those for other process industry as well as agricultural machinery. Besides enormity of the range, there also is another characteristic of inventions in this field. A mechanical engineering invention in the form of a simple and novel device or component for an important operation could come from a high school student or even from an illiterate villager (grassroots innovation!) as against a highly sophisticated self-actuating precision machine powered by sensors and robotics from the house of advanced engineering companies.
Engineering MNCs
Many engineering companies which grew with mechanical inventions are now well known globally competitive multi-national companies, each having large patent portfolios of their own. Ford Motor Company, Xerox Corporation and General Electric Company of USA are some of the examples of such MNCs who are reported to have built an inventory of thousands of patents to support their businesses. General Electric which has also set up a R&D Centre in India now for some years is reported to be keen on filing patents in large numbers in India too.
Historical Tools and Machinery Patents
Mechanical innovations have given us human comfort and flexibility of carrying out various operations and transportation since time immemorial; thus many mechanical engineering patents of earlier years are known as 'legacy patents' which include devices like typewriter, sewing machine, pistol, paddy thrasher etc. In fact, the invention of printing press by Gutenberg is regarded as the most remarkable invention of last millennium that is credited to have initiated 'renaissance' and changed the course of human history.
Directory of American Tools and Machinery Patents (DATAMP) is a database of old machines and tools patents currently having an inventory of 47 thousand plus (and growing further) patents collected largely from the databases of USPTO and augmented with several other patents from other databases, i.e., from Canada, Switzerland, Germany and UK. It is aimed at creating a clearing house on antique tool and wood working machine patents contributed by various enthusiasts and experts on voluntary basis and providing information about the history of these tools. The data collected from the old USPTO database (records of which are accessible only through patent number or from the classification number) is converted to a DATAMP format for easy searching and knowledge sharing. The information available on the website is freely available to anyone interested in it.
Vintage Patents
Patents between the year 1800 to 1900, most of which are from mechanical engineering branch and have interesting drawings in their descriptions have now become vintage patents and are getting popular as objects of art to be decorated in offices and living rooms. These patents are not just famous and unique such as that of President Abraham Lincoln but also belong to different categories, such as designs of automobiles of Ford, Dodge and General Motors etc., electric bulb, farm and dairy implements, tractors, sewing machines. Machine guns, revolvers, kitchenware, musical instruments, steam engines, locomotives and railway instruments and equipments such as signals and switches, sports equipment, blacksmith tools, carpentry tools, hand tools, firefighting equipment, heavy construction equipment, office machines, printing machinery, automobiles, bicycles, motorcycles, trains etc.
A website 'Vintage Internet Patents' is an online repository of about 450 such vintage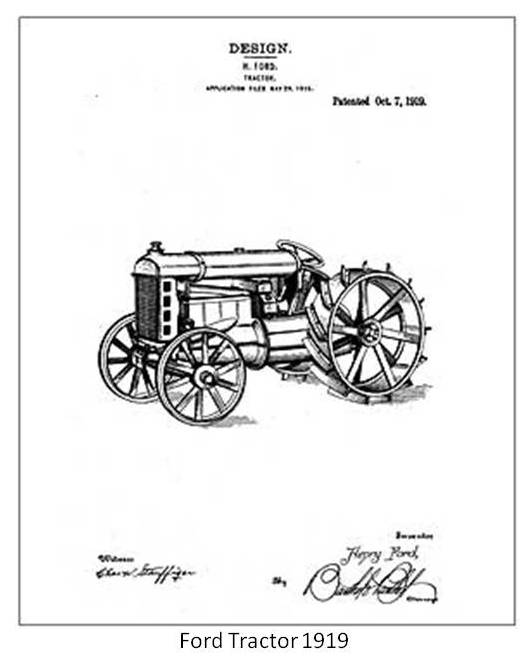 patents set in different categories of trade and professions mentioned above. The website offers a service of reproduction of patent drawings of selected patents on 10″x13″ parchement paper duly framed as an art object as described at 'Patent Art'. A typical picture of a vinatge patent showing Ford Tractor of 1919 taken from the website is shown here. A complete patent document is also downloadable for reference along with each patent drawing to be stored in pocket on the backside of the frame. Similar patent drawings are also available from a few other internet marketing websites, namely e-bay etc.
Advances in Mechanical Engineering
While the core of mechanical engineering discipline deals with application of scientific principles for design and production of tools and systems for operations and transportation using mechanical and thermal energy that call for the basic understanding of concepts like structural analysis, material science, thermodynamics, kinematics and mechanics, the present day study of mechanical engineering is more and more interdisciplinary. Advanced areas of micro-systems, control engineering, mechatronics nanotechnology and biotechnology are now an integral part of the mechanical systems being developed for applications in variety of industries, e.g., energy, environmental engineering, manufacturing & processing, construction & building, bioengineering, aerospace & defense, transportation, automotive etc.
It has become important to develop appropriate academic understanding of newer concepts and principles in line with the new inventions emerging from such cross-disciplinary research. In line with this requirement, Bentham Science Publishers Ltd. has started bringing out annual review of different aspects from annotated collection of 'Recent Patents on Mechanical Engineering' (ISSN: 1874-477X) since 2008. These developments are reviewed by highly accomplished scholars from academics and cover the topics like, 'Absorption Cooling Systems', 'Shape Memory Alloys', 'Fuel Cells' etc.
Searching Mechanical Engineering Patents
In view of wide scope of application of mechanical engineering concepts in diverse industries, the searcher should preferably have a background in the subject and a fair understanding of the principles of working of devices for which patents are being searched. It pays to update the general knowledge of the subject by going through the relevant articles available on the internet at appropriate sites such as 'Wikipedia' and 'How stuffs work'. It may also be borne in mind whether the interest lies in looking for utility patents on inventions embodying technological advances or different designs and configurations of standard devices having aesthetic appeal. In the latter case, one should look for pictures under suitable design classes in the design databases which are generally published separately from the databases of utility patents by different patent offices. The discussion on 'patent searching' herein after is restricted to searching mechanical engineering utility patents that describe substantial technical improvements over the prior art and are usually accompanied by drawings.
Since most mechanical engineering patents provide a combination of text and drawings which must be read simultaneously to get to understand them, it is essential that their search studies be accomplished on databases and systems that provide both text and picture capabilities. Both USPTO and European 'espacenet' do provide these facilities as also many other systems and free patent databases on the internet. It has been observed that a facility to flip over pictures and text while going through the patent description greatly helps in understanding the mechanical engineering patents. This facility is known to be available with some commercial software for patent search.
A search tool 'EAST (Examiner Automated Search Tool)' used by Patent Examiners of USPTO is widely praised for its ability to flip through document images at an extremely rapid rate. This is a highly valued attribute by searchers of mechanical patented inventions. The access to EAST is stated to be available for use by general public free of cost in a Public Search Room at the USPTO headquarters in Alexandria, Virginia, USA.
Classification Search
Patent search is usually accomplished through a twin strategy of searching through 'key words' as well as 'classification codes' as applicable to the patent databases being searched. US Patent Classification codes, USPC are applicable to US patents, as European classification codes, ECLA are applicable to European patents and the F-terms applicable to Japanese patents. International Patent Classification (IPC) codes which are managed by WIPO are now widely applied to patents by various patent offices and hence IPCs can also be used for searching patents of interest. To be able to search the patents through classification codes, one needs to be familiar with the classification systems to extract meaningful patents using the class or sub-class of interest from appropriate database.
USPTO is known to have some 248 major classes for mechanical patents; each class is given a class definition and the inventions are further categorized into different sub-classes. One needs to learn precisely about these classes to search patents indexed by the identified class; each patent may also be classified under more than one class or sub-class. USPTO classification is based on the claimed inventions and has a large historical baggage and therefore prior familiarity with USPC classes and sub-classes greatly helps in searching exercises.
European classification, ECLA which is based in 'International Patent Classification (IPC)' and more elaborate than IP,C is a hierarchical subject specific classification. In ECLA/IPC, Section-F is entirely devoted to mechanical engineering and there are as many as a dozen and half classes under it as shown in the Table below. The titles of each class in the Table are active links and clicking those would lead to patent collection under that class. Patent collection under each class may, however, run into a number exceeding 100,000 patents and one would need to know and use precise sub-classes, groups and sub-groups under each class to harvest a meaningful number in a well-defined narrow field.
It may be noted that it is common to find mechanical patents frequently in other sections beyond the main classes of Section F in ECLA/IPC. For example, 'Machines for Finishing Brushes' bearing the code A46D9 in Section A fetches more than thousand patents through this code. Therefore, it is important to carefully check the entire classification scheme to avoid missing important patents.
Japanese F-terms
Machine translated abstracts of Japanese patents in English are now becoming freely available online at Industrial Property Digital Library. The classification and search system adopted by the Japanese is particularly well suited for searching mechanical engineering patents and therefore it is described here in some detail.
The search system comprising of F-terms and F-Index (FI) was developed by Japanese Patent Office and is used by examiners in the JPO who accord appropriate F-terms, together with IPC codes, to each patent document published by the JPO. This classification system consists of themes and associated terms differentiated from each other but related to the overall theme in a tree like fashion. Each theme has a number of viewpoints which in turn describe different aspects denoted by what is referred as F-terms. Thus each theme is eventually a matrix of viewpoints and the F-terms. Each document is assiduously classified by the Patent Examiner repeatedly for each viewpoint in the respective theme with suitable F-terms along with IPC codes.
For searching of relevant documents on focused themes, thus, it is essential to clearly understand the mechanics of identifying relevant F-terms corresponding to the main sub-groups in ECLA/IPC. To illustrate, let us consider the main group 'F02B1/00′ for 'Engines with fuel-air mixture compression' in ECLA/IPC classification system. The corresponding F-Index for 'F02B1/00′ of ECLA is '3G023′ at IPDL. The theme of '3G023′is further differentiated by as many as seven view points: AA – Purpose or Effect, AB – Ignition Method, AC – Fuel Supply Method, AD – Combustion Chamber Construction, AE – Material or Surface Treatment, AF – Engine type and AG – Special Combustion Method or the Like. Each of these viewpoints has several F-terms and two of the F-terms of viewpoint AD are:
AD02 – Combustion chambers formed mainly in pistons, and
AD03 – Combustion chambers formed mainly in cylinder heads
Thus, if the interest lies, for example, in combustion chambers formed mainly in pistons and not in cylinder heads, one needs to search through the F-term 3G023 AD02 only leaving out all other superfluous collection on internal combustion engines.
The significance of searching patents through F-terms lies in the fact that most assignees of globally competitive inventions file for patents in Japan besides USA and Europe. It is helpful, therefore, to search patents in tightly focused areas through F-terms and identify key patents and then expand the search with their ECLA/IPC classifications in their families.
Conclusion
The field of mechanical engineering is not only overwhelming in a wide range of industry but is expanding in all dimensions of research with a fair amount of cross disciplinary developments. The global inventory of patents in mechanical engineering is burgeoning and is getting fairly complex with regard to classification and search. Just as carrying out advanced research in mechanical engineering is getting more challenging with newer areas such as CNC machines, robotics, MEMS etc., the search of patents also is getting equally challenging and requires appropriate background and skills of the searchers.
References